Who are Allies?
Public Allies are diverse, energetic, enthusiastic and ambitious individuals who want to make an impact in their communities. Allies embrace our six core values:
Asset-Based Community Development,
Collaboration, Continuous Learning,
Diversity & Inclusion,
Integrity
Critical Self-Reflection.
Allies are not only invested in their own personal & professional development, but in the development and growth of their fellow allies and communities as well.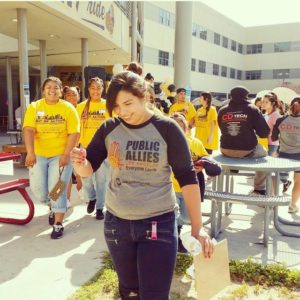 What are the benefits of being an Ally?
Allies receive a monthly stipend of $1,500 during the 10-month program. In addition, upon successful completion of the program, Allies qualify for an Education Award of $5,700 that can be used for education expenses.
Aside from financial benefits, it is the program experience that makes the Public Allies year a memorable one. Some of the other benefits of being an Ally are:
Full-time, entry-level work experience in local non-profit organizations.
Creating positive change in the community through the organization you are placed with.
Participating in training, service days and retreats that create lasting friendships with other allies and community members.
Strengthening your skills relating to: networking, collaboration, communication and project management through Team Service Projects.
Participating in free Community Planning courses at Los Angeles Trade Tech.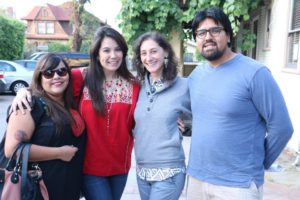 Who are ideal candidates to become an Ally?
You are an ideal candidate for the program if you are at least 17 & a half years old and:
Are looking to improve your professional skills.
Are interested in changing your community and/or a career in non-profits.
Are under-employed or unemployed for 6+ months.
Are a citizen or permanent resident of the United States (AmeriCorps participation requirement)
Have your H.S. diploma or GED, or will have received it by September 1st, 2017.
Will be available to be in the program full-time from September 1st, 2017 – June 30th, 2017.
How can I get a feel for what it means to be an ally?
Connect with us through our social media sites and follow our current allies in their journey!
www.facebook.com/PublicAlliesLosAngeles
www.twitter.com/PublicAlliesLA
www.instagram.com/PublicAlliesLA
Ready to Apply? 
Click HERE to be redirected to the online application.